Do you own a pair of gaming headsets with wires? If yes, then you would relate to the problems that wired gaming headsets often have. Wireless headsets have their advantages and disadvantages. For instance, wireless headsets have high latency, which is a slight delay that you will feel for audio signals to reach the headphones. That's where premium gaming headsets with detachable cables and microphones come in.
Why Do Gamers Need Headsets with Detachable Cables?
You might know that while purchasing headsets to improve the gaming experience, you have to consider various factors such as noise cancellation, sound isolation, and comfort. Besides all these essential features, you have to opt for detachable cables. Here are some benefits of headsets with detachable cables:
They are easy to carry since they do not have the messiness of cables.
You can easily replace the cables instead of replacing the entire headset, especially when your pet chews on the cables.
Why Do Gamers Need Headsets with Detachable Microphones?
Gamers who play solo, as well as multiplayer games will usually purchase a PS4 headset with a detachable mic. You can purchase these headsets for multiple reasons. For instance, removing the microphone from the headset can give you comfort. The microphone adds additional weight to the headset. Removing the mic will remove pressure on your neck and head.
Furthermore, many gamers complain that the boom microphone is not necessary all the time. They sometimes need the mic for high-quality communication. But, when they play single-player games, they want to get rid of the boom mic. If you want to have complete control of your microphone, you should buy a headset with a detachable microphone.
Top Headsets with Detachable Cable and Microphone
Here are some best headsets with detachable cables and microphones to offer you freedom and control over your uses. You can add and remove cables and microphones according to your needs and have an immersive gaming experience.
EKSA E5000 Pro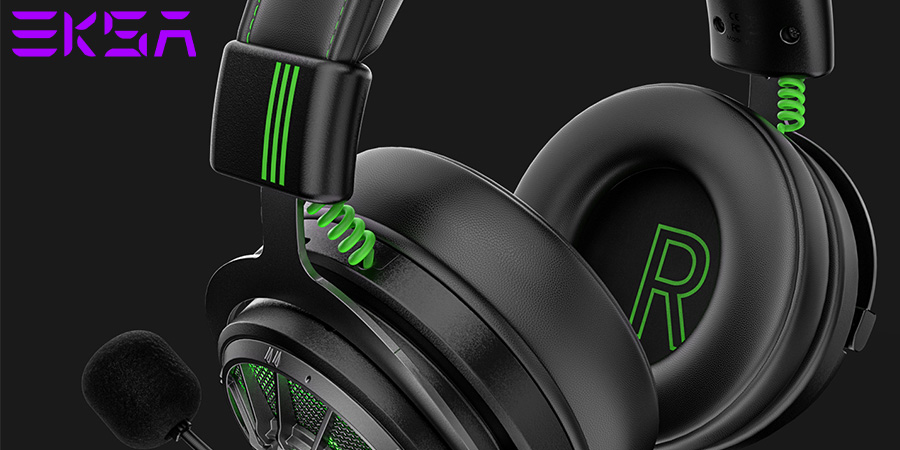 Here are some outstanding features of the EKSA E5000 Programming headset with detachable cable and mic:
Multiple Platform Compatible
EKSA E5000 Pro headset is compatible with different gaming platforms. For instance, you can connect the headsets with PC, Xbox, and PlayStation as well. This means that you don't have to purchase different headsets for different gaming consoles. You can purchase one headset and use it for every gaming device you have. Furthermore, the detachable cables give additional freedom as you don't have to purchase connectors for different devices. You can easily detach PlayStation audio cables and connect PC cables.
An AI-Powered noise-canceling headset offers better communication. These microphones include an AI-algorithm chipset to filter the input audio and extract the background noise. EKSA E5000 Pro headset contains an ENC microphone that eliminates ambient noise. As a result, you and your teammates can concentrate on the game better and create effective strategies.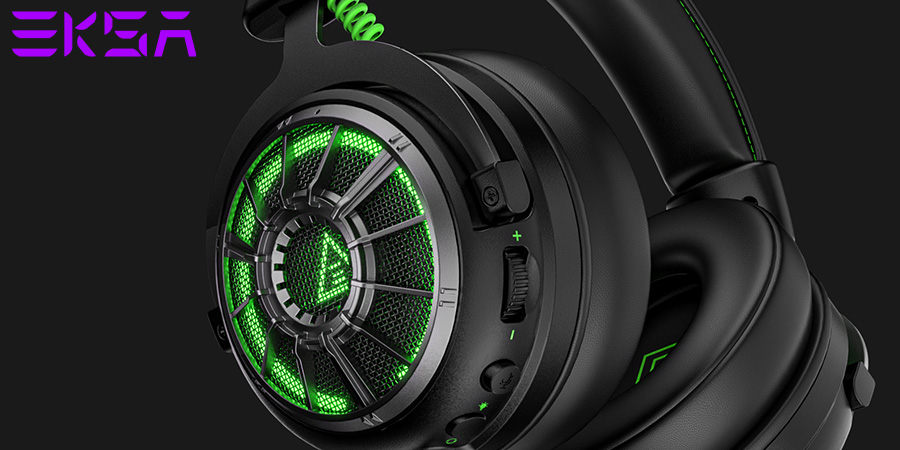 Virtual 7.1 Surround Sound
A virtual 7.1 surround sound headset is another important feature of a gaming headset. The feature includes multiple speakers in both ear cups to create a 3D surround sound effect. The manufacturer strategically aligns these speakers to give gamers a sense of direction. When players use a headset such as EKSA E5000 Pro with a 7.1 surround sound feature, they can determine the opponents' direction using sound. Having a surround sound headset will give you a competitive edge over your opponents.
A detachable microphone is an important feature if you play multiplayer as well as solo games. For instance, when you are playing Dying Light and Assassin's Creed, you can remove the microphone for comfortable head movement. However, when you are playing multiplayer games such as Fortnite and PUBG, you can attach the microphone for smoother communication.
EKSA E900 Pro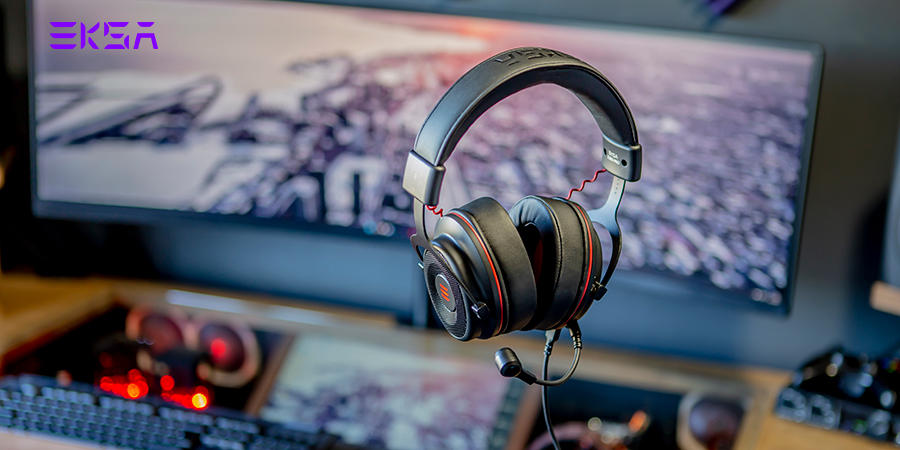 EKSA E900 Pro is a premium gaming headset with a detachable mic and cable. Here are some features of this headset:
Noise Cancelling Detachable Microphone
The noise-canceling detachable microphone contains an chipset that blocks background noise. This feature works as a filter that processes only the player's noise to the other end.
EKSA E900 Pro contains protein memory foam, which is one of the most comfortable materials for the headset. The memory foam on the headband and ear cups allows gamers to play non-stop games. The designers at EKSA understand why players get tired of wearing the headsets. That's why they use protein memory foam, which is ultra-soft, comfortable leather. Automobile companies use this material for car seats, offering comfortable long rides to the drivers.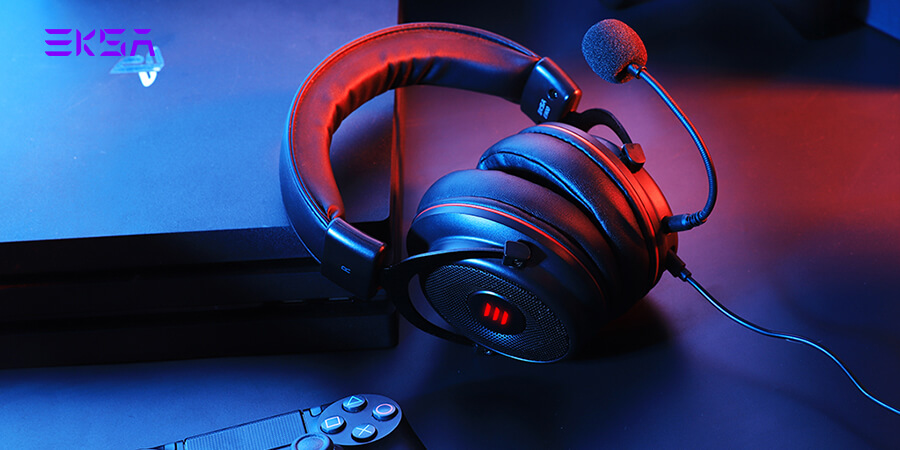 This headset has two audio systems for high-quality sound. The dual audio system includes immersive gaming sound and 7.1 virtual surround sound audio systems. Immersive, realistic sound offers a realistic journey to the gamers. It reproduces natural sound with a multi-dimensional approach, so players can dive into the game environment. The 7.1 virtual surround sound, as discussed in EKSA E5000 Pro, includes multiple speakers aligned to offer a 3D sound experience.
Another top benefit of purchasing the EKSA E900 Pro is its ergonomic design. The adjustable headband and comfortable ear muffs reduce pressure on the head. Furthermore, gamers can enjoy their favorite games for long gaming sessions.
Conclusion
EKSA E900 Pro and EKSA E5000 Pro are top-quality headsets with detachable cables and microphones. These headsets offer incredible sound quality, ergonomic design, and AI-powered noise-canceling technology. So, if you want to buy the best gaming headset for PC with a smooth gaming experience, you should head for these options designed by EKSA.