Are you looking for a premium gaming headset that will improve your gaming experience and skills? If yes, then you should buy EKSA E5000 Pro. These are recently launched headsets by EKSA, one of the top headset manufacturing companies. If you want to learn more about EKSA E5000 Pro wired gaming headset, this post will be a great reference. In this post, you will find complete features that make this headset suitable for gamers. So, without further ado, let's get started.
Features of EKSA E5000 Pro Premium Gaming Headset
EKSA recently released one of the advanced gaming headsets in their product line, which is the EKSA E5000 Pro. There is a wide range of advantages to purchasing these headsets. The headset contains advanced features that will offer immersive sound quality and tactical advantage to the players. Here are some features of the EKSA E5000 Pro that makes this headset one of the best for gamers: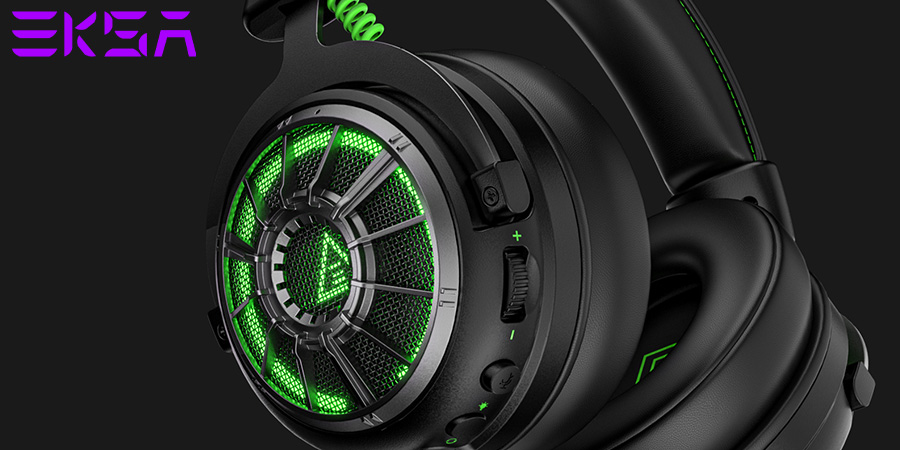 1.
Advanced Positional Audio
Positional audio is a new technology to improve the gaming experience for the player. With this technology, you can identify the exact direction of your teammates and reach out for their help in case of an emergency.
The technology considers you as the center of the game and creates a circle around your location. When your teammates talk with you through their microphone, it will place their sound on that circle depending on their characters' position.
EKSA introduced this technology in their newly launched EKSA E5000 Pro the best pc gaming headset. This PS4 headset will disconnect you from the external environment so you can improve your gameplay. When you will play the FPS game wearing this headset, you don't have to open the map again and again to spot your teammates' position. As a result, you can immediately reach out to help your friends when they need help.
2.
Incredible Build Quality
Another reason to purchase a new EKSA E5000 Pro is the build quality. The Xbox gaming headset contains stainless steel and resin material that makes it a robust option for advanced players. Professional gamers look for a headset with robust material because they know their use. Sometimes, gamers have to use gaming headsets for extensive hours. Therefore, they need an option that can handle harsh conditions.
EKSA E5000 Pro gaming headset with mic is specially designed for gamers with extensive gaming sessions. This headset has high longevity because of its built quality. Furthermore, the protein leather muffs on the headband and earpiece are long-lasting. This means that they won't wear over time. So, if you want robust surround sound headphones that will stay with you for longer, you should opt for the EKSA E5000 Pro headset.
3.
Built-in Controls
The manufacturer designed EKSA Star Engine E5000 Pro by keeping in mind the comfort of their gamers. The designing team wants to ensure that players don't have to navigate through the game settings to mute and control the volume. Therefore, they included built-in control buttons on the earpiece. So, if you want to control the volume, you can by reaching out to the simple-to-use buttons.
Also, there is a volume control wheel that offers additional convenience to the players. For instance, if you want to talk with your roommates, you can simply turn down the wheel to lower the volume. Unlike traditional headsets, you don't have to keep on pressing the button until you reach to desirable volume.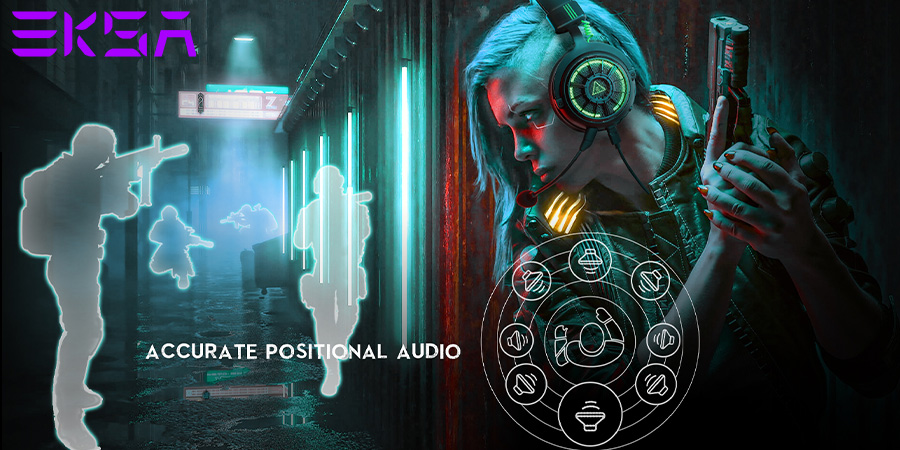 4.
One Key Switch
The built-in button section contains one multi-functional button as well. This extra button allows you to turn on and off the LED light. Furthermore, you can toggle between 7.1 surround sound features by flicking it. Again, this is a convenient option for you if you want to switch between surround sound and stereo sound features while playing a game.
For instance, if you are playing an FPS game alone and suddenly your friends joined in, you can press one button to improve sound quality. By turning on the 7.1 surround sound button, you can activate the multi-directional speakers. These speakers will create surround sound so you can identify the exact location of the in-game sounds. That way you can spot your opponents' location with the help of gunfire, footsteps, and vehicle sound.
5.
Compatible with Multiple Devices
Do you want to buy a separate noise-canceling gaming headset for each of your gaming consoles? If yes, then you don't have to spend your money on purchasing different headsets. You can buy the EKSA E5000 Pro video game headset, which is compatible with the different gaming consoles.
EKSA E5000 Pro is compatible with PlayStation, Nintendo Switch, and Xbox One. Furthermore, you can use these best gaming headphones for pc with PC, laptops, and mobile devices. So, if you are a gaming enthusiast who plays games on different devices, you should buy EKSA E5000 Pro.
6.
Clear Microphone
EKSA E5000 Pro's best over-ear headphones for gaming contain an advanced microphone with the latest technology. The microphone contains dual-chip technology for smooth and clear communication. These micro-chips work with the help of an AI algorithm, which separates the background noise from gamers' voices.
The first micro-chip processes the input sound and identifies the distance of the player from the mic. Once it detects the actual source of the sound, it eliminates the noise coming from other sources. As a result, your teammates can easily understand your voice, even if you are playing the game in a loud environment.
Having a 7.1 surround sound headset with ENC technology increase your chances to win the game. It eliminates the background noise so you can communicate with your teammates during the game. With the help of this feature, you can make effective strategies and reduce errors and mistakes. Besides improving your game, the ENC technology improves your gaming experience as well.
7.
Sleek Gaming Design
Advanced gamers consider comfortable gaming headset design as well while purchasing headset. They want a lifelike experience that will make them feel like their favorite character. Every gamer, while playing games thinks that they are physically inside the game. That's why they try to disconnect from the external world.
Sleek gaming design headset such as EKSA E5000 Pro gives them an incredible feeling as a gamer. When they have gaming-inspired ENC Headphones and other gadgets, they can improve their concentration and performance. Furthermore, you can flex in front of your friend about your sleek design gaming headset.
8.
Comfortable Fit
Another special feature of the EKSA E5000 Pro is comfort. The best pc gaming headset contains huge earmuffs that perfectly fit all types of ears. Furthermore, the premium memory ear cushions offer comfort and sound isolation. Designers at EKSA also used memory ear cushions on the headband to offer complete comfort to the players.
Also, the adjustable headband makes this headset a comfortable and ergonomic option for players. If you play games for extensive hours, you should buy EKSA Star Engine E5000 Pro. Wearing this headset you can play games for hours without stressing or pain.
Unlike another bulky headset, EKSA E5000 Pro is ultra-lightweight. This means that you won't feel pressure on your neck by wearing this headset. The weight of the headset also plays a significant part to improve the comfort level of the headset.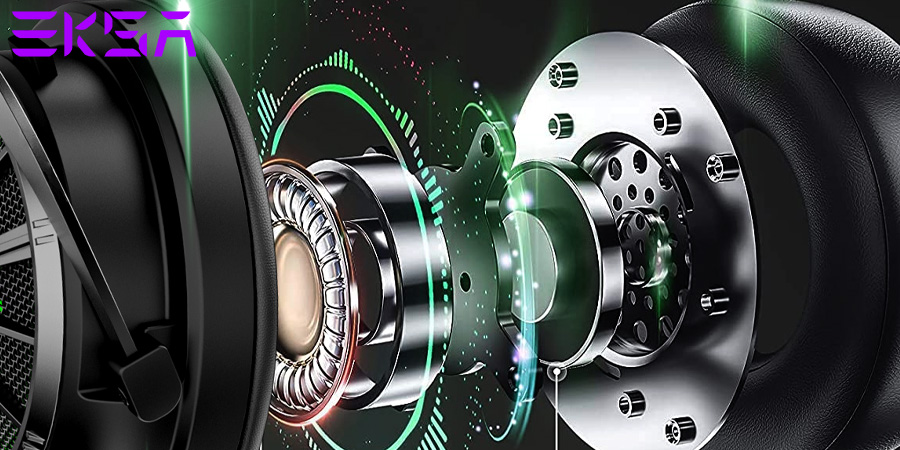 9.
Flexible Microphone
A flexible microphone also increases the comfort level of the headset. You can adjust the headset according to your mood and comfort. For instance, if you are playing single-player shooter games, where you don't need a microphone, you can bend the mic away from your mouth. That way you can reduce your stress level and focus on your game.
Meanwhile, when you switch to an FPS game, where you have to communicate with your teammates, otherwise you won't win you can bring back the mic. This flexibility of the microphone offers peace of mind and comfort.
EKSA E5000 Pro, a good gaming headset, takes care of comfort and quality for the gamers. That's why it includes all the advanced features for the players. It includes a flexible microphone that you can move according to your comfort level.
Conclusion
EKSA E5000 Pro over-ear gaming headset is a remarkable gaming headset with advanced features such as positional audio, 7.1 surround sound speakers, and an ENC microphone. This pc gaming headset with a mic focuses on improving the complete experience for the players. This means that it offers quality, comfort, and style.
Moreover, EKSA E5000 Pro is a budget-friendly gaming headset for new and professional gamers. If you want a high-quality headset with studio-quality voice clarity, background noise cancellation, and uniquely crafted design, then you should opt for EKSA E5000 Pro.