As a gamer, you're looking for the best gaming experience you can find, and this is when a good gaming headset comes into play. You're probably aware of how much difference a gaming headset can have on your performance in the game. This is one of the reasons why you need to have the best gaming headset, which is where EKSA steps in. EKSA offers the best surround sound gaming headsets by a very large margin.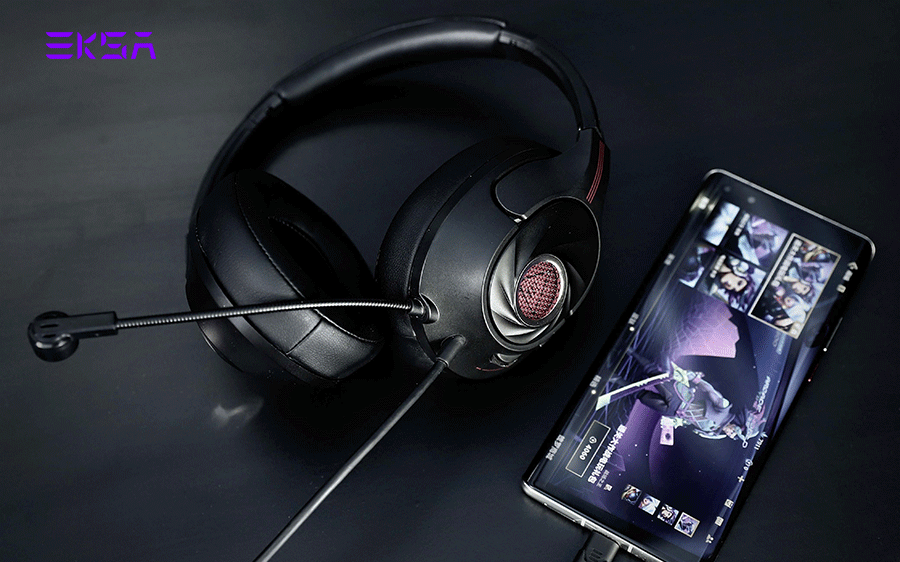 Difference between a Surround Sound and Stereo Sound Gaming Headset
Gamers understand just how important a good surround sound system is for a more immersive experience. Since it is a vital part of any setup, most people struggle to choose one or don't know how to buy one. Gamers put a lot of thought into deciding which gaming headset is best for them. This can be a very complex decision for a gamer, just like choosing the best furniture can be for your home.
There are a few major differences between stereo and surround sound, both of which can change how you play a game. One important distinction between the two audio setups is that stereo sound has two channels of sound, while surround sound has multiple channels. These multiple channels help simulate the sound in a 3D environment.
The headsets with surround sound feel like you're in the game. You can essentially hear 3D audio from your surrounding audio setup, making you feel like you're part of the game and ultimately enhancing your gaming experience. For the best virtual gaming experience, you must look for a good surround sound gaming headset.
Some gamers argue that competitive shooter games are better with a stereo sound system than a surround sound system because most gamers don't understand its importance. Shooter games generally require a lot of focus and precision, as one small change could mean that you have to start the level again, or you could lose the match.
If you're playing a shooter and someone throw's a grenade at you, you can probably tell where the grenade is just by hearing and paying attention to the sound. However, with surround sound headsets, it can be hard to see where the sound is coming from. Some gamers prefer normal stereo headsets specifically because
they are easy to use and give accurate information.
But that is not to say that surround sound gaming headsets are not good. Except for competitive games, surround sound gaming headsets can be an excellent choice. They completely enhance your gaming experience for the better.
Difference between Virtual and True Surround Sound
Digital True Surround System
You'll find two speakers in each ear cup with true digital surround sound systems. You can hear in-game sounds coming from multiple sources with this feature.
It creates a more layered sound compared to stereo gaming headsets, but DTS gaming headsets usually have smaller ear cups, which can affect the quality of your audio.
Virtual Surround System
Some advanced quality gaming headsets can have the label of 7.1 or 5.1 virtual surround sound, offering a superior quality gaming experience. Virtual surround sound headsets can produce 5 to 7 sound channels, giving the effect of more than 2 speakers. This feature makes you feel like you're in the game, and you can hear detailed sounds while playing.
The great thing about this audio setup is that you can enjoy a superior quality sound without having to compromise on the quality, unlike true digital surround sound systems. The best true 7.1 surround sound gaming headset offers an enhanced gaming experience.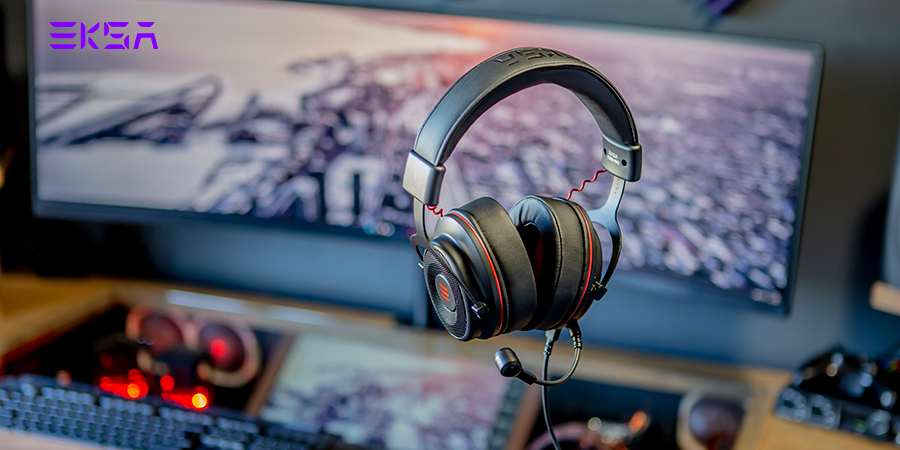 Why Is Surround Sound More Suitable For Gamers?
The main reason why surround sound is better for gamers is because it improves the overall cinematic gaming experience. It is perfect if you're in a multiplayer setting because surround sound gaming headsets can help you detect other players' movements a lot more easily. With surround sound systems, you can immerse fully into the gaming world without any distractions.
The two different types of surround sound systems, as discussed above, offer two different gaming experiences. Most pro gamers won't go for a true digital surround system if they're more into competitive shooter games. While TDS offers spacial audio with multiple sound channels, it is not the best option for shooter games because gamers have to compromise on the worse off sound quality.
When you are compromised, it becomes difficult for pro gamers to detect attacks and the movement of other players.
This is where virtual surround sound comes into place. 5.1 Or 7.1 virtual surround sound systems are perfect for both enhancing quality audio and offering a superior gaming experience.
Pro gamers use 7.1 virtual surround sound gaming headsets to completely enhance their gaming experience and immerse fully into the gaming world.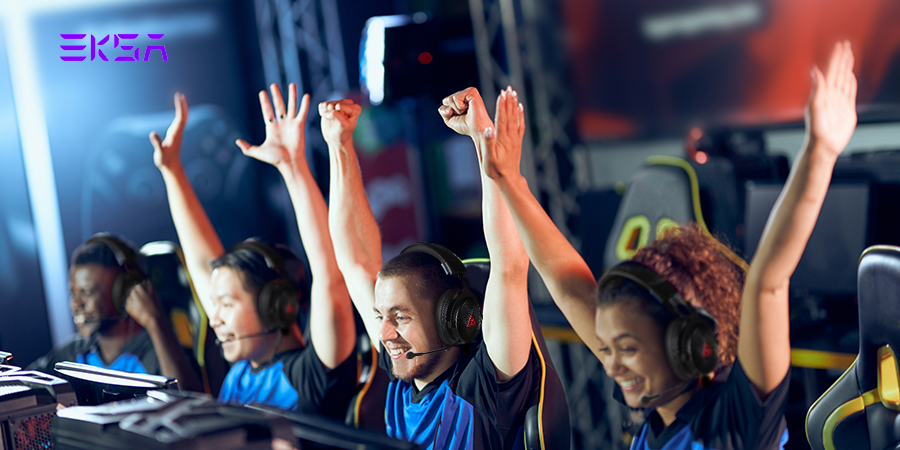 How to Choose a Surround Sound Headset?
EKSA has many great options of the best surround sound gaming headsets on the market. You need to know which surround sound gaming headsets are the best for you.
7.1 Virtual Surround Sound
If your gaming headset has 7.1 virtual surround sounds, you will have an enhanced gaming experience compared to other headsets. Not only can you reap the benefits of multiple audio channels and spacial audio, but you can also enjoy superior audio quality. EKSA offers the best wireless 7.1 surround sound gaming headsets, and the E900 Pro is perfect if you wish to take advantage of the 7.1 virtual surround sound software. The E900 pro improves the quality of sound so that you can define your enemy's position as quickly as possible. This7.1 virtual surround sound gaming headset is designed specifically for gaming which makes it the ideal option for players.
EKSA Air Joy Pro 7.1 Surround Sound Gaming Headset is another great option if you're not looking to compromise on audio quality. This headset has a clear noise-canceling microphone and convenient audio control to adjust the volume on the fly. More importantly, this headphone has an adjustable 7.1 surround sound driver to deliver a better and more immersive gaming experience.
Lightweight and Comfortable
Most headsets can be really heavy and uncomfortable to wear, especially if you tend to spend hours of your time trying to reach high levels in your game. You have to wear your headsets for hours, so it is really important to wear the most comfortable and lightweight headsets you can find. EKSA has the most comfortable options of headsets for you. The E3Z Air Joy Plus Ultralight Nintendo Switch Headset is exactly what you're looking for because it features a sleek design that is perfect for extended sessions of playing video games.
These lightweight headsets are just 204g which makes them convenient to carry around with you and are perfect for hours of gaming.
These headsets have a pressure-free fit, so you don't have to worry about them being too tight on your ears. The E3Z Air Joy plus Ultralight Nintendo Switch Headset comes with comfortable padding and breathable ear muffs, which offer you a comfortable gaming experience. These gaming headsets come with an adjustable headband for the perfect fit and have large ear muffs to avoid any pressure on your ears.
5.8GHz Wireless Transmission Technology
Oftentimes, gamers have to rely on wired alternatives every time they're playing since wireless alternatives just aren't as strong. Therefore, most gamers have to compromise. Most gamers have to compromise on their comfort and cannot play games at a distance from their PC or laptop. EKSA launched the E910 5.8GHz Wireless Gaming Headset, which is exactly what you're looking for. The 5.8GHz wireless connection gives your headsets considerably more signal strength compared to other headsets, which means you can move around freely and can play games at a distance.
Playing games at a distance is also better for your eyesight, and most general practitioners will warn you against playing games too close to your eyes. This is one of the reasons why the E910 5.8 GHz Wireless Gaming Headset is perfect for gamers.
Environmental Noise Cancellation (ENC technology)
As a gamer, you know how important it is to not have distractions around you while you're trying to conquer a boss. EKSA has launched the E900 plus Environment Noise Cancelling Gaming Headset, which has ENC technology and can effectively suppress 90% of reverse environmental noise, thereby reducing environmental noise by up to 35dB or more, allowing you to communicate more freely. Through the dual microphone array, the direction of the caller's speech is accurately calculated, and various interfering noises in the environment are removed while protecting the target voice in the main direction.
These headsets have an integrated chip, which utilizes an ENC sensor to capture independent signals and distinguish ambient noises to cancel out the noise from the environment. In-game sounds are also crystal clear and sharp, ensuring that you can hear members of the enemy team. You can talk to your friends clearly using software like Discord, with the advanced noise-canceling mic attached to your headset.
Conclusion
You can shop at EKSA for affordable and excellent headphones that will greatly enhance your gaming experience. You can find some of the best budget surround sound gaming headsets at EKSA.