If you're a gamer, you're probably searching for headphones that provide the best comfort. You also need headphones that can provide multiple hours of comfort to spend quality recreational time.
The headphones you're currently using probably don't give the comfort you're looking for, so you may be confused about choosing a headset with comfortable earmuffs.
EKSA is the perfect place to find the market's most comfortable and convenient headsets. They provide a range of headphones designed specifically for gamers looking for comfort. That's why EKSA is the perfect brand for top-quality headsets.
Once you know where to get the best headsets on the market, you'll need to choose from the range of options available.
How to choose a headset with comfortable earmuffs?
EKSA offers different headset models, with each model offering a variety of different benefits to enhance your gaming experience like never before.
Premium Ear Cushions
If you're looking for a headset with the most comfortable earmuffs, EKSA is just the place for you. Their headsets offer premium memory foam ear cushions for the most optimized gaming comfort. It also has an adjustable headband that lets you adjust your headphones according to your comfort. This way, it won't feel tight on your head.
It uses 1.1-inch ear cushions that cover your ears, so you get the best sound quality. With this 3-in-1 gaming headset, you can play your favorite games for hours without causing an additional strain on your head. E5000 Pro offers the best ear pads for headphones you can't find anywhere else.
It is usually hard to find good-quality ear pads for headphones, so don't miss out on an opportunity to level up your experience.
Accurate Positional Audio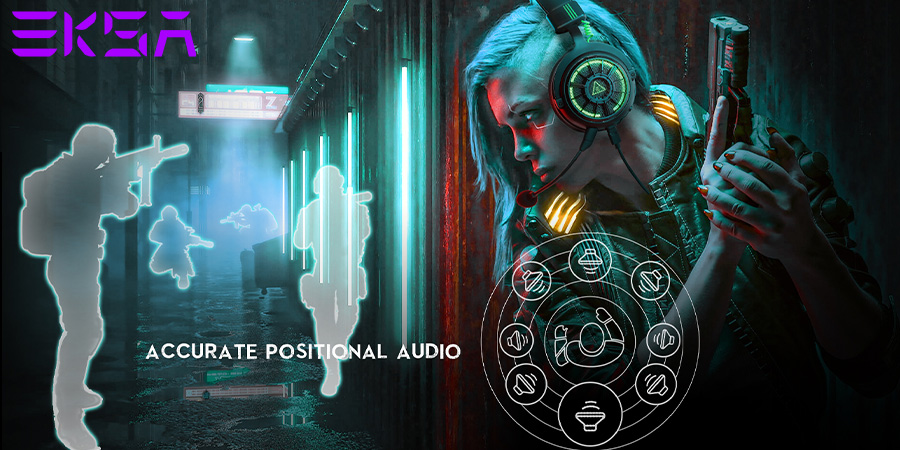 EKSA headsets have 7.1 virtual surround sound, which offers the best gaming experience as users surround themselves in the gaming world. Surround sound has enhanced bass rendering, proximity cues, and accurate positional audio for a better sound quality experience.
Accurate positional audio makes you feel like you're part of the game, thanks to high-quality sonic immersion. The headphone earmuffs with surround sound enable users to experience 3D audio so that they enter the same universe as their favorite characters.
The E5000 Pro gaming headset has revolutionized the gaming experience, with the design being especially unique for enthusiastic gamers searching for the above-mentioned features.
Memory Foam Earpads and Adjustable headband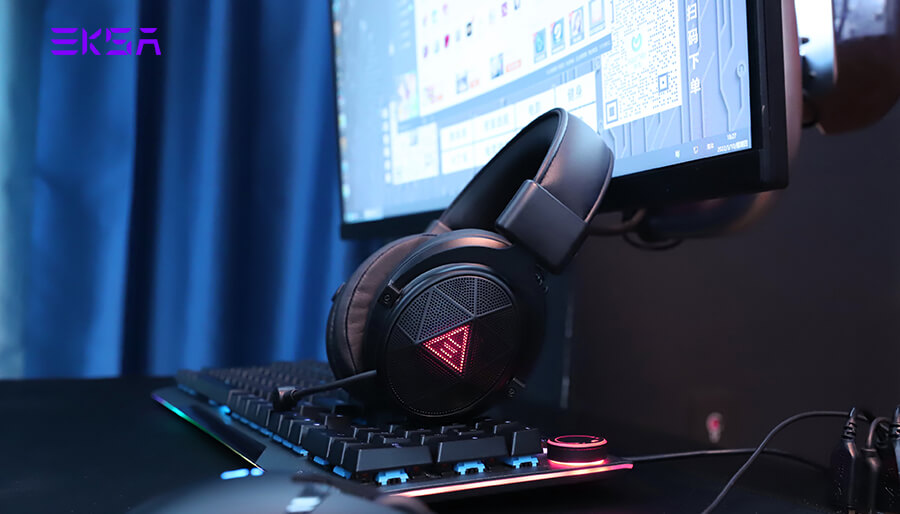 The E910 Wireless Gaming Headset has the most comfortable headphone earmuffs that use headphone memory foam ear pads to offer the best support for gaming.
This headset has an adjustable headband, so you can adjust it at your convenience. Often, your headset can be a lot bigger or a lot smaller for your head, which can be quite a problem when gaming. An adjustable headset allows you to make necessary adjustments suited to your comfort.
The E910 Wireless Gaming Headset also has a soft head cushion which gives added comfort to enhance the user experience.
Enhanced ENC experience
The E910 Wireless Gaming Headset has a built-in ENC (Environmental Noise Cancellation) chip that completely upgrades your gaming experience by effectively suppressing 90 percent of the environmental noise. This feature completely changes your experience for the better so that you can immerse yourself completely in the game without any external distractions.
Memory foam ear pads, paired with ENC technology, make this gaming headset one of the most attractive choices for gamers. The memory foam ear pads for this headset are big enough to cover the ears completely and, when paired with noise cancellation features, make it impossible for even the slightest sound to enter your ears.
The E910 uses highly advanced technology, such as a built-in ENC chipset, Immersive surround sound, and 5.8 GHz signals for a more stable connection with no interference.
However, apart from the advanced technology it uses to enhance the gaming experience, this headset does not compromise on comfort either. It offers the best comfort for gamers and uses an ergonomic design that makes these headphones convenient and user-friendly.
Large Earmuffs Which Completely Cover Your Ear
The E7000 Fenrir Xbox Gaming Headset's features make it a fantastic choice for gamers, thanks to its ability to offer a comfortable gaming experience. Many times users experience discomfort from long hours of playing. This is usually because gaming headsets fail to offer the comfort they promise.
This is when the E7000 Fenrir Xbox Gaming Headset comes into play. This headset offers the most comfortable gaming experience with a real over-ear gaming headset. Its ear cushioning is much larger than other headsets, covering your ears completely without any pressure or strain.
The high-quality 50 mm speakers further enhance your gaming experience. You can feel the explosions happening as you completely immerse yourself in the game. Comfortable earmuffs, paired with high-quality sound, makes your everyday gaming experiences worth remembering.
You can wear this headset for hours and won't feel any discomfort like other headsets. This is one of the main reasons it's perfect for gaming, and it's why you should buy one.
Achieve an unmatched gaming experience with the E7000 Fenrir.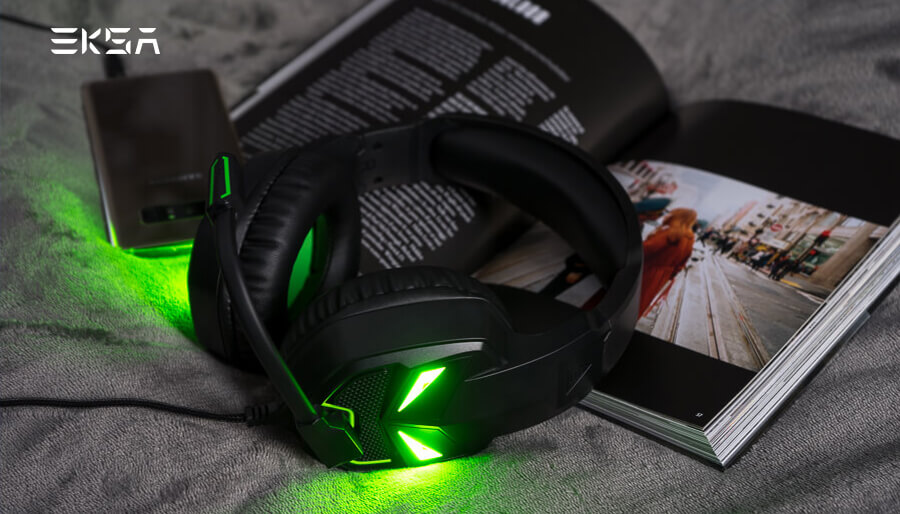 Conclusion
While the sound makes it perfect for gamers, the ergonomic design means that everyone can try out the headset. All three headset models, E5000 Pro, E910 Wireless Headset, and the E7000 Fenrir Xbox Gaming Headset are perfect options for the best gaming experience because they all offer comfortable earmuffs along with other benefits.
If you're looking for a Gaming headset with comfortable earmuffs, EKSA is the place to be. Here, you'll get some of the most comfortable headset options to choose from.